Inviting Najwa Shihab to Marshanda, Festival Pulih by Popbela.com: How to Make the Most of Failures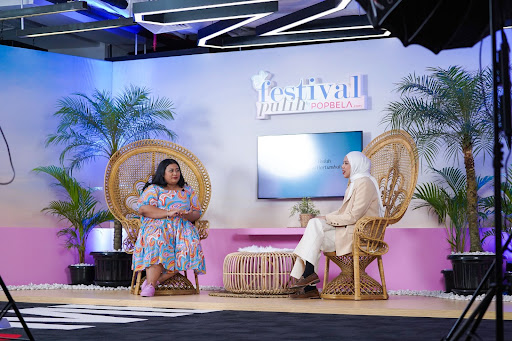 Popbela.com was hosting the Festival Pulih for the first time this year. Various inspiring content was presented on the Festival Pulih platform from early November 2021. Meanwhile, the festival's big bang, expressly displayed as a sharing space for Millennials & Generation Z, was finished on November 25-27. Festival Pulih was broadcast live on numerous internet platforms, including Instagram and YouTube.
The Festival Pulih was a form of Popbela.com's support for those experiencing difficulties as a result of the COVID-19 pandemic and/or their personal experiences. This was then in line with the Festival Pulih's tagline this year, "Rangkul Kegagalan, Rayakan Luka" ("Embracing Failures, Celebrating Wounds"). Everyone must have failed at some points in their lives. Despite the fact that it was often unpleasant and left scars in the heart, Festival Pulih invited the audience to believe that failure was truly one of the foundations of success.
The participation of numerous well-known public figures enlivened the event. They shared their experiences about failures and hardships. Najwa Shihab, Marshanda, Ariel Tatum, Denada, Prilly Latuconsina, Dena Rachman, Hana Madness, and others, spoke about the journey they went through to deal with the situation and heal. Each speaker believed that in order to heal, every single one of us must be willing to fight persistently and resolutely. For example, as Najwa Shihab clearly stated, "The ability to come back stronger does not come instantly; we must pursue that, too."
Festival Pulih invited the audience to learn to accept their mistakes and failures and to steadily move on with life with even better steps. Therefore, Festival Pulih presented a series of programs, such as womenpreneurs, mind, body, soul, wellness, career moves, relationships, entertainment, and many others. To rewatch the Festival Pulih 2021 by Popbela.com or its podcasts attended by Ucita Pohan, Uma Hapsari, Gita Bhebhita, and Chiki Fawzi, visit Popbela.com's YouTube, Instagram, and Spotify
Judithya Pitana, Editor-in-Chief of Popbela.com: "This Festival Pulih was once based on my personal experience when the COVID-19 pandemic took a big hit in most of our lives. Well, but, beyond that, there were also personal conflicts that many of us underwent as well. We shared different kinds of the same thing, really. I frequently received direct messages on Instagram from people who were stressed out, anxious, and unsure about how to feel any better. That was why Popbela.com decided to set the Festival Pulih up as a safe place for people to heal and grow. Thank you for your participation in Festival Pulih 2021; hopefully, the presence of Festival Pulih will give us stronger ammunition, allowing us to forgive and learn from failures."