IDN Media Distributes Aid for People Affected by the Mount Semeru Eruption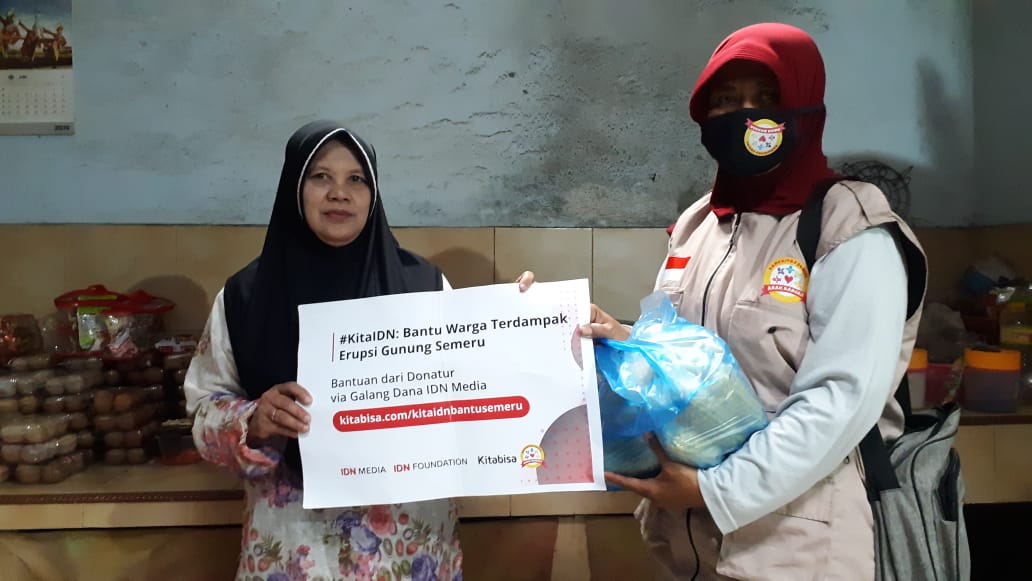 On December 23, 2021, IDN Media, through the IDN Foundation, provided donations to locals affected by Mount Semeru's eruption. The aid provided came in the form of food supplies for public kitchen in Supiturang Village, Pronojiwo District. Protein, vegetables, cooking spices, and a variety of other kitchen needs are among the food ingredients given.
This aid was distributed as a the result of IDN Media's fundraising campaign, #KitaIDN: Bantu Warga Terdampak Erupsi Gunung Semeru (Aiding Residents Affected by Mount Semeru Eruption). The distribution of the food supplies to the affected area was also supported by Kitabisa and Komunitas Anak Bangsa. The food supplies was meant to help those affected by the disaster meet their daily consumption needs.
IDN Media, through the IDN Foundation, hopes the #KitaIDN: Bantu Warga Terdampak Erupsi Gunung Semeru fundraising campaign could help build optimism and encourage people to give positive contribution to their surroundings, particularly our brothers and sisters those who are affected by natural disasters, because we are Indonesia.
Zefanya Deby, Head of Communications IDN Media - "On December 4, 2021, Mount Semeru eruption shocked all of us. The loss of life, as well as the people whose houses have been damaged, is a source of grief for all of us. In response to that situation As a result, through the IDN Foundation, we encourage the IDN Media audience as well as the wider community to join us in helping those who were affected by the eruption of Mount Semeru. We hope that this initiative will help to boost the optimism of those impacted and strengthen the spirit of sharing."