IDN Launches 50 Billion Rupiah IDN Live Streamer Fund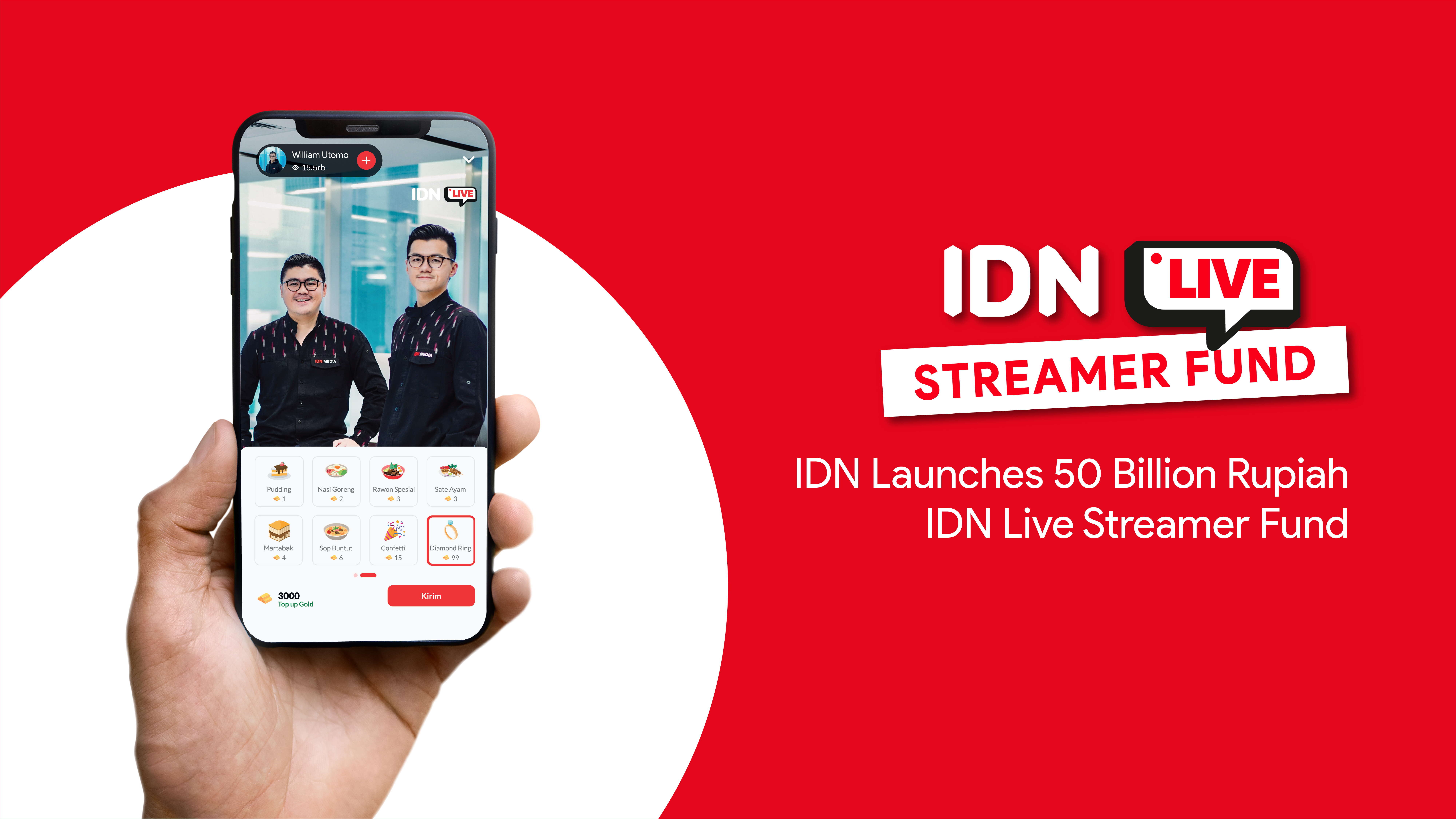 IDN (a content platform by IDN Media) strengthens its commitment to become the leading one-stop content platform for Millennial and Gen Z in Indonesia, by launching the IDN Live Streamer Fund in April 2022. The program will provide a 50 billion Rupiah fund to build the streamers ecosystem in IDN Live. This is an initiative by IDN Live to give appreciation to the streamers and to empower them in their journey as live streamers.
Since its initial release, IDN has launched many innovative features with IDN Live as the primary push of the strategy. IDN Live is a live streaming platform within the IDN. IDN Live enriches the other popular content formats in IDN, such as articles from IDN Media's publishers, quizzes, and movie streaming.
The quality of streamers and the variety of content they produce become an important part of IDN Live's growth in the future. IDN Live Streamer Fund is expected to enhance streamers' creativity, encourage the growth of new streamers, and support Indonesia's content creator industry. The 50 billion Rupiah fund is open for everyone and will be distributed to selected streamers that meet particular criteria. IDN Media will also give additional support to the streamers, including:
Media coverage, promotional strategy, and paid advertisement across the IDN Media ecosystem (IDN, IDN Times, Popbela.com, Popmama.com, Yummy, FORTUNE, GGWP, and Duniaku.com).

Access to IDN Media's professional studio located in our Jakarta and Surabaya offices.

Opportunity to get brand sponsorship facilitated by ICE (a creator marketing platform by IDN Media).

Extensive training and mentorship programs from IDN Media's team.

Hardware to support streamers' sessions, such as camera, microphone, mixer, tripod, lighting, green screen, and more.
William Utomo, Chief Operating Officer, IDN Media - "We are very excited to launch IDN Live Streamer Fund. We want to show our appreciation to our amazing streamer community by rewarding them for their creativity and authenticity in live streaming. We want all streamers to have the opportunity to earn an income doing what they love and turn their passion into a livelihood. IDN Media's vision from the beginning remains the same: to democratize access to information, including building a platform for millennials and gen z to create quality content. We have done similar concepts with our community writers at IDN Times and community chefs in Yummy. We sincerely hope that this program can help IDN to become a one-stop content platform and also strengthen the live streaming ecosystem in Indonesia."
Zefanya Deby, Head of IDN - "IDN Live is a live stream platform within IDN that allows streamers' voices to be heard, genuine interaction to be made, and authentic relationships to be formed. All this will be done with IDN Media's commitment to providing quality and impactful content. This fund is open to anyone who wants to develop their creative ideas in live stream content. IDN Live Streamer Fund not only helps creators get income from their content, but also grows their content creation capabilities with IDN Live. "
More info about IDN Live Streamer Fund can be found on IDN Live Streamer Fund website and IDN's Instagram.