2022 Sundance Film Festival: Asia reveals lineup for in-person festival and events on 25-28 August, 2022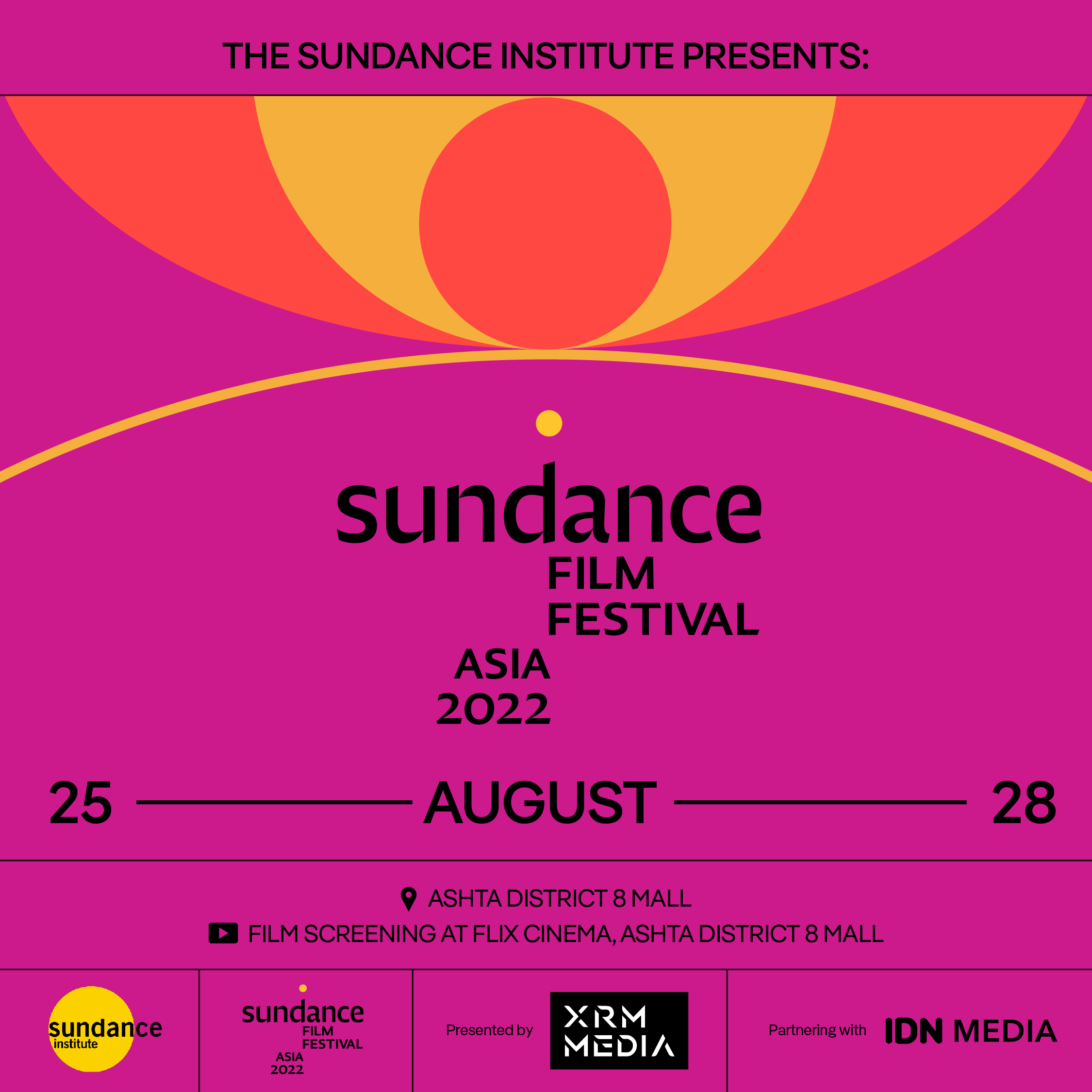 Sundance Film Festival: Asia announced today the lineup of feature films and events for the 2022 inaugural in-person festival in Jakarta from 25-28 August. The Festival will present seven feature films, four fiction and three nonfiction, from the 2022 Sundance Film Festival curated by Sundance's programming team. The films represent independent storytelling from the US, UK, and Southeast Asia, each making their Indonesian premiere. The program is complemented by talks and panels from local and international guests hosted at ASHTA at District 8 and FLIX Cinema ASHTA. Tickets are now on sale at FLIXCinema.com.
To celebrate the in-person Festival, there will be a Meet and Greet Day on 27 August in ASHTA, inviting film enthusiasts to participate in conversations with film directors, filmmaker guests, and the Sundance Film Festival programmers. The day will feature panels with special guests and a mixer at the end of the activities for a chance to extend the dialogue. Further details of the event will be announced in the coming weeks. To participate, please register at the Meet & Greet section at SundanceFilmFestivalAsia.org.
The Festival will spotlight Indonesian filmmaking talent through the Sundance Film Festival: Asia Short Film Competition, sponsored by Argo. Seven finalists have been selected from over 100 entries. The artists and projects are: The Archipelago (Azalia Muchransyah & Firman Wijasmara), A Trip to Bangka (Winnie Benjamin), Aya (Aditya Ahmad), Evacuation of Mama Emola (Anggun Priambodo), Ride to Nowhere (Khozy Rizal), Science Around Us (ARIV) and Shallots and Garlic (Andrea Nirmala Widjajanto).
The Jury Award for Best Short Film will be announced on the Festival's opening day. The winner and the finalists will be available to stream on Argo during the Festival and for a limited time. Last year's shorts competition saw two of the films selected for the 2022 Sundance Film Festival.
Alongside the Festival, Sundance Institute's Feature Film Program will host a two-day screenwriters intensive for emerging filmmakers on August 25-26. Designed to be a showcase and accelerator for new Indonesian talent, the intensive will provide creative guidance and access to industry experts, plus the Institute's artist program staff for emerging filmmakers working on a first or second feature film.
"Sundance Film Festival: Asia offers an exciting opportunity to connect with the Asian community around independent filmmaking. We share a vision with our partners XRM Media and IDN Media to use storytelling to connect communities and inspire new artists in Indonesia and support the development of Asian artists through our filmmaking programs," said Joana Vicente, CEO of the Sundance Institute.
"We are thrilled to present the first in-person edition of Sundance Film Festival: Asia in Jakarta. The program represents the independent spirit of the Sundance Film Festival, and we can't wait for local audiences to experience the humor, emotion, and beauty of these films. We are grateful for the opportunity to celebrate independent filmmaking in Indonesia and to create the space for conversation and an exchange of ideas," said Kim Yutani, Sundance Film Festival Director of Programming.
William Utomo, Chief Operating Officer, IDN Media remarks, "We are very excited to work together to create the in-person festival experience and continue to serve the best interest of movie lovers in Indonesia. We hope that the Sundance platform can continue to push the movie industry forward."
The 2022 Sundance Film Festival: Asia is presented by the Sundance Institute and XRM Media in Jakarta, Indonesia with support from IDN Media. For more details on the full program please go to SundanceFilmFestivalAsia.org and for ticketing Flixcinema.com.
The 2022 Sundance Film Festival: Asia feature film lineup details are:
blood / U.S.A. (Director and Screenwriter: Bradley Rust Gray, Producers: David Urrutia, Bradley Rust Gray, So Yong Kim, Elika Portnoy, Alex Orlovsky, Jonathon Komack Martin) — After the death of her husband, a young woman travels to Japan where she finds solace in an old friend. But when comforting turns to affection, she realizes she must give herself permission before she can fall in love again. Cast: Carla Juri, Takashi Ueno, Gustaf Skarsgård, Futaba Okazaki, Issey Ogata. Fiction.
Brian And Charles / U.K. (Director: Jim Archer, Screenwriters: David Earl, Chris Hayward, Producer: Rupert Majendie) — A story of friendship, love, and letting go. And a 7ft tall robot that eats cabbages. A comedy shot in documentary format. Cast: David Earl, Chris Hayward, Louise Brealey, Jamie Michie, Lowri Izzard, Mari Izzard. Fiction.
Fire Of Love / U.S.A. (Director: Sara Dosa, Producers: Shane Boris, Ina Fichman, Sara Dosa) — Intrepid scientists and lovers Katia & Maurice Krafft died in a volcanic explosion doing the very thing that brought them together: unraveling the mysteries of volcanoes by capturing the most explosive imagery ever recorded. A doomed love triangle between Katia, Maurice and volcanoes, told through their archival footage. Documentary.
Leonor Will Never Die / Philippines (Director and Screenwriter: Martika Ramirez Escobar, Producers: Monster Jimenez, Mario Cornejo) — Fiction and reality blur when Leonor, a retired filmmaker, falls into a coma after a television lands on her head, compelling her to become the action hero of her unfinished screenplay. Cast: Sheila Francisco, Bong Cabrera, Rocky Salumbides, Anthony Falcon. Fiction.
Maika / Vietnam (Director and Screenwriter: Ham Tran, Producers:Jenni Trang Le, Duy Ho, Anderson Le, Bao Nguyen) — After a meteor falls to earth, 8-year-old Hung meets an alien girl from the planet Maika, searching for her lost friend. As Hung helps her otherworldly friend search, the alien inadvertently helps Hung make new friends and heal a broken heart. But danger lurks everywhere… Cast: Phu Truong, Diep Anh Tru, Tin Tin, Ngoc Tuong, Kim Nha. Fiction.
Midwives / Myanmar (Director: Snow Hnin Ei Hlaing, Producers: Bob Moore, Ulla Lehman, Mila Aung-Thwin, Snow Hnin Ei Hlaing) — Two midwives work side-by-side in a makeshift clinic in Myanmar. Documentary.
RIOTSVILLE, USA / U.S.A. (Director: Sierra Pettengill, Producers: Sara Archambault, Jamila Wignot) — Welcome to Riotsville, a fictional town built by the U.S. military. Using footage shot by the media and government, the film explores the militarization of the police and the reaction of a nation to the uprisings of the late '60s, creating a counter-narrative to a critical moment in American history. Documentary.
The Sundance Film Festival: Asia is supported by our sponsors the State of Utah and Grand Hyatt Hotel Group.