Pahlawan IDN Program by IDN Media Has Announced 5 Main Winners on National Heroes Day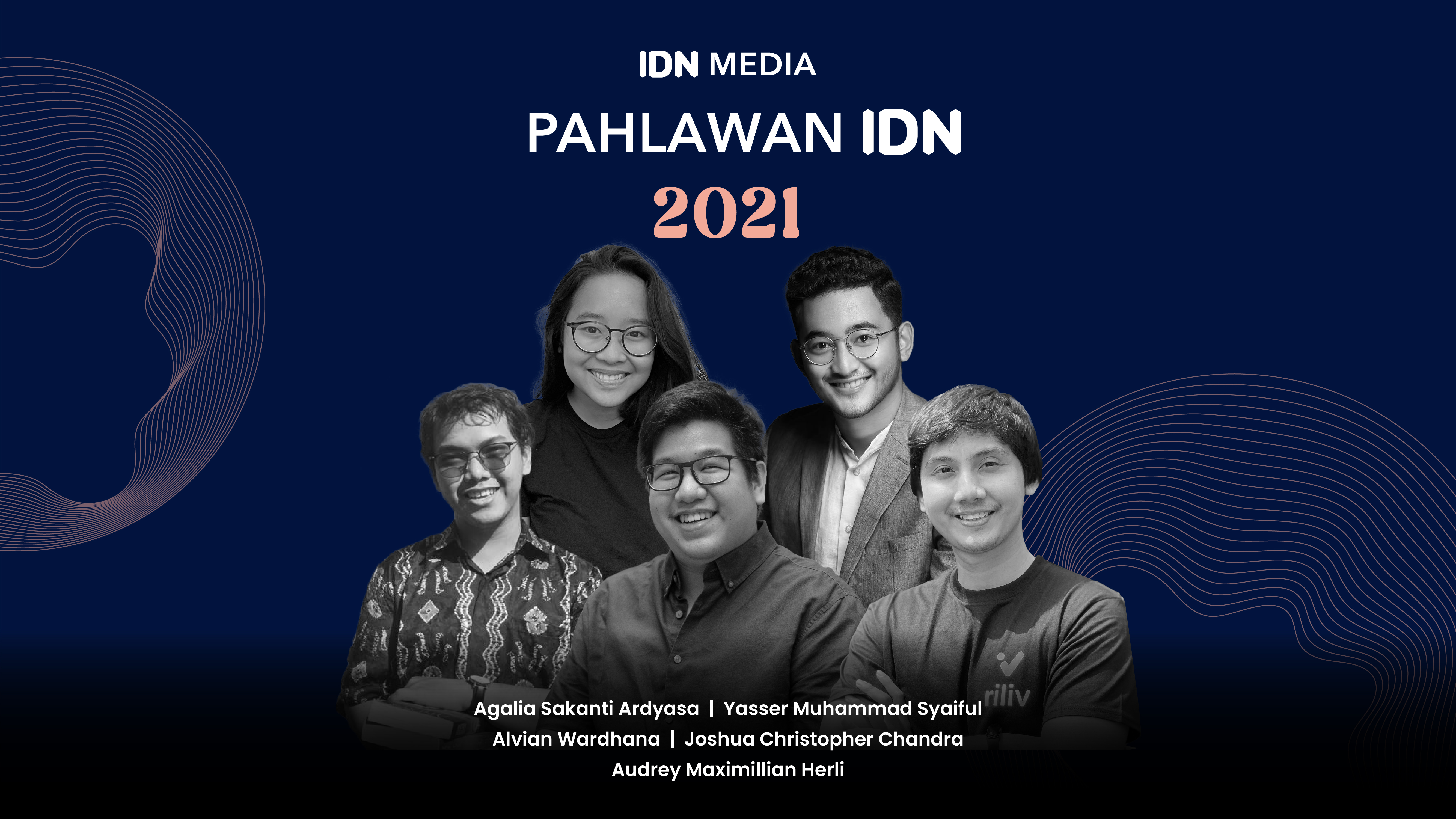 IDN Media has just revealed the five main winners of the Pahlawan IDN program on November 10, 2021, along with Indonesian National Heroes Day. Pahlawan IDN is a recognition program for inspiring Millennial and Gen Z figures who have successfully initiated positive movements in the sectors of Education, Environment, Health, Economy, Technology, Creative Projects, and Community. Coming with Satu Negeri Beragam Inspirasi as its tagline, here are the five main winners, as announced live on IDN Media's TikTok platform:
1. Riliv, represented by Audrey Maximillian Herli
2. Plana (Plastic for Nature), represented by Joshua Christopher Chandra
3. Mataharikecil Indonesia, represented by Yasser Muhammad Syaiful
4. BecomeMore Indonesia, represented by Agalia Sakanti Ardyasa
5. Literasi Anak Banua, represented by Alvian Wardhana
The aspects evaluated include the originality and the uniqueness of the idea, the objective, the result, the impact of the activity in related sectors, and also the sustainability of the initiatives on a long-term basis. Winston Utomo (CEO of IDN Media), Zefanya Deby (Head of Communications IDN Media), Uni Lubis (Editor-in-Chief of IDN Times), Najelaa Shihab (Educator & Founder of Semua Murid Semua Guru), and William Hendradjaja (Chief of Business of Skilvul & Managing Partner of SIAP), all have participated as the Pahlawan IDN board of jury.
The five main winners will receive cash prizes as well as publication support from IDN Media for an entire year. They also have the opportunity to join the signature event held by IDN Media and get connected to the massive community network owned by IDN Media.
Uni Lubis (Editor-in-Chief of IDN Times): "Congratulations to the five winners of the Pahlawan IDN, an independent appreciation program firstly held in 2021. Focusing on the innovations and impacts that Millennials & Gen Z have made, Pahlawan IDN has its own uniqueness. The finalists cover a wide range of topics, including literacy, mental health, and the environment. Hopefully, with this award, you can keep your dedication to the organization's sustainability, build a strong community, and ensure your openness and accountability. As a result, more chances will become accessible."
Najelaa Shihab (Educator & Founder of Semua Murid Semua Guru): "Best wishes to the winners! The conversations that participants had with the judges, hopefully, will always be remembered along the journey. Keep focusing on the impact and long-term sustainability of these activities. Empowering others must begin with empowering ourselves. I hope more people will see and understand that we ourselves are the change we've been waiting for."
William Hendradjaja (Chief of Business of Skilvul & Managing Partner of SIAP): "I am incredibly inspired by everyone who has taken on this social and environmental responsibility at such a young age. Some are even still in college. Thank you for taking part and for your efforts so far. It's still a long way to go. Therefore, don't forget to look for a support system that can back up the great things you've initiated."